Veggie donuts
Ingredients
veggie donuts
250

ml

vegetable broth

3

tblsp

peas

can be frozen

3

tblsp

broccoli

small flowers

2

tblsp

yellow bell pepper

little cubes

2

tblsp

red sweet pepper

little cubes

1

tblsp

onion

1

tblsp

olive oil

to wok

salt and pepper

mix of fresh herbs

if wanted
accessories
6

little donut shaped dishes

can be a baking trail with donut shapes
Instructions
Cut the broccoli flowers as small as possible. Cut the peppers and onion into very small cubes. Put a tablespoon of olive oil in a wok pan and wok all the vegetables (broccoli, peas, peppers and onions) for five minutes. Season with pepper and salt.

Bring the vegetable stock to boil and add the stir-fried vegetables. Dissolve the agar agar in three tablespoons of water and stir with the vegetables. Let everything simmer gently on a low heat and keep stirring. Turn off the heat. If desired, you can now add the finely chopped fresh herbs. (example: parsley or chives) Seazon if necessary.

Divide the vegetables and stock over the six molds and put them in the refrigerator. Let them become firm during several hours. I make them one day before so they can firm up during the night.

To take them with me I put a few lettuce leaves in a lunch box, on top of that the donut and cover again with lettuce. Tasty
Notes
To limit my intake of carbohydrates, I am constantly looking for alternatives. If you then also keep the 80/20 (80% vegetables / day) rule in mind, I quickly notice that this is not a as easy to realise every day. A sandwich for lunch is easy to make…. To avoid this, I make a few alternatives in advance so that they are -ready to take-  the day after. Time is my biggest enemy … That's why I try to respond to this during the weekend and, for example, prepare separate portions of soup or hard boiled eggs that I can immediately take with me … These donuts were a nice change, even my 10-year-old son found it surprisingly tasty and took a second donut with pleasure ….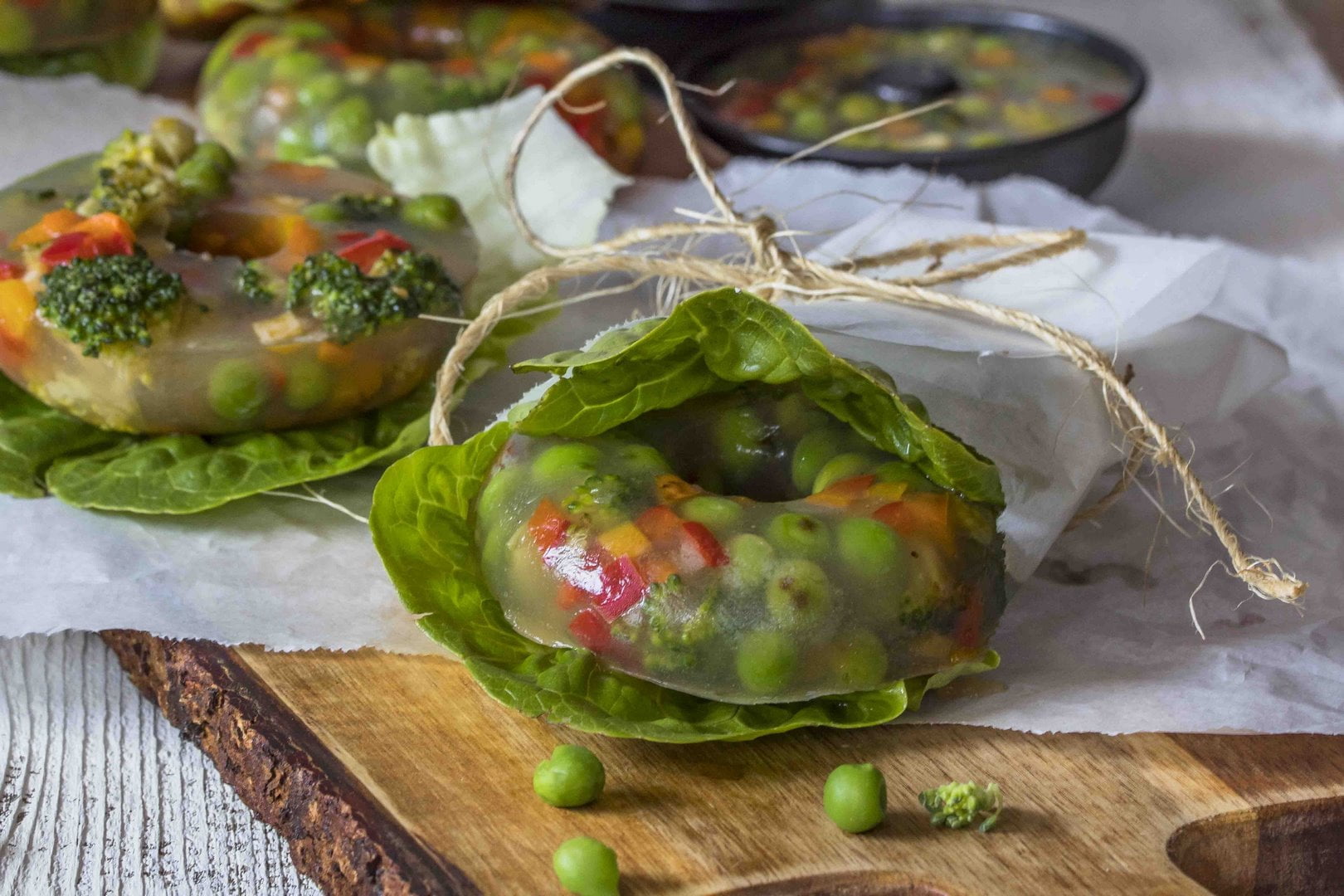 Foodblog

by Patricia
I am Patricia, energetic 40'er, architect, business manager and food blogger. Living in Andalusia but from Flanders - Belgium. Mother of 2 active and creative kids who, together with my husband Geert, form the tasting team of the first order!
Cooking has become a passion. Everything starts with devising an original recipe and that's when my love for food photography & styling comes across… In my blog you will get to know my healthy Mediterranean fusion cuisine!

Buen provecho!
READ MORE >
weekly organiser
Preparation is everything! "Meal prepping" ... Download and print your -Mediterranian kitchen-inspired- weekly planner including shopping list. Need inspiration?
weekly organiser >
Spotify playlist
Een etentje met vrienden of famillie? Zorg voor extra zuiderse sfeer en beluister mijn -SECRETOS DEL SUR- Spotify list" (dank aan DJ Beatz voor de finetuning)